Well, I made it through my first Monthly Goal link up with a few successes.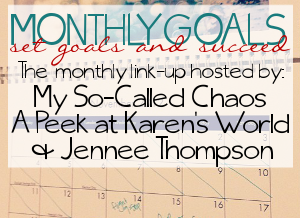 ★Organize
and beautify
my office; it is a disaster.
Kind of a success. I organized it.
☆Organize my closet, also a disaster.
DONE!
★Prepare at least 2 gluten-free/vegan meals each week
and blog about it.
I ate great food,
but never blogged about it.
☆Be coffee-free 3 days per week.
SUPER FAIL! Not even close.
★Learn how to properly can tomatoes.
FAIL. But only because I don't have enough tomatoes to can yet.
☆Start saving $250-275 for
Summerdance
.
FAIL. Didn't save anything.
★Plan some type of weekend getaway with Joe.
SUCCESS! We are going to Atlanta in October.
I guess I wasn't too much of a failure in July, lol. 50/50 isn't bad, right?
My August Goals:
★Take preschool tours with Olivia to find the right one to start going to in early winter.
☆Start downsizing all of my 'junk', do this through yard sales and charity.
★Get a secured credit card and build up my credit.
☆Excercise DAILY, not just 2 or 3 times a week.
★Order Harvest Party invitations/decorations.
☆Take a sushi class with Joe.
★Help
Ancestral Warship
sell out a show!
Many of you may have seen them at EST Fest with MGK this past week, they rocked it!
☆Get out more and stop being a homebody!
I go out, just not enough to say I have an active social life, lol.
-----
PS. I SAW JUSTIN TIMBERLAKE AND JAY Z IN DETROIT THIS WEEK AND IT WAS ONE OF THE BEST SHOWS I HAVE EVER SEEN. I suggest everyone go see them when they come through your town! They collaborated on about 75% of the songs, it was so good. Jay Z seriously must have performed every single hit he has had since 1996
(including hard knock life, how awesome is that?)
and same with Justin. He sang a good 4 or 5 songs from each of his solo albums.
AMAZING.